Brighten Your Smile and Features with Teeth Whitening
A smile is one of the most memorable features when meeting a new person, according to a study conducted by the American Academy of Cosmetic Dentistry. A stained or dull smile can make you feel self-conscious about your appearance and lower your self-confidence when speaking to others or smiling in photos.
Dr. Gerald B. Grossman has been helping patients improve their smiles for over 40 years. Our Westbury, NY, office combines personalized care, artistry in dentistry, and advanced technology. We use a laser when performing in-office teeth whitening to ensure the most comfortable treatment with dramatic results.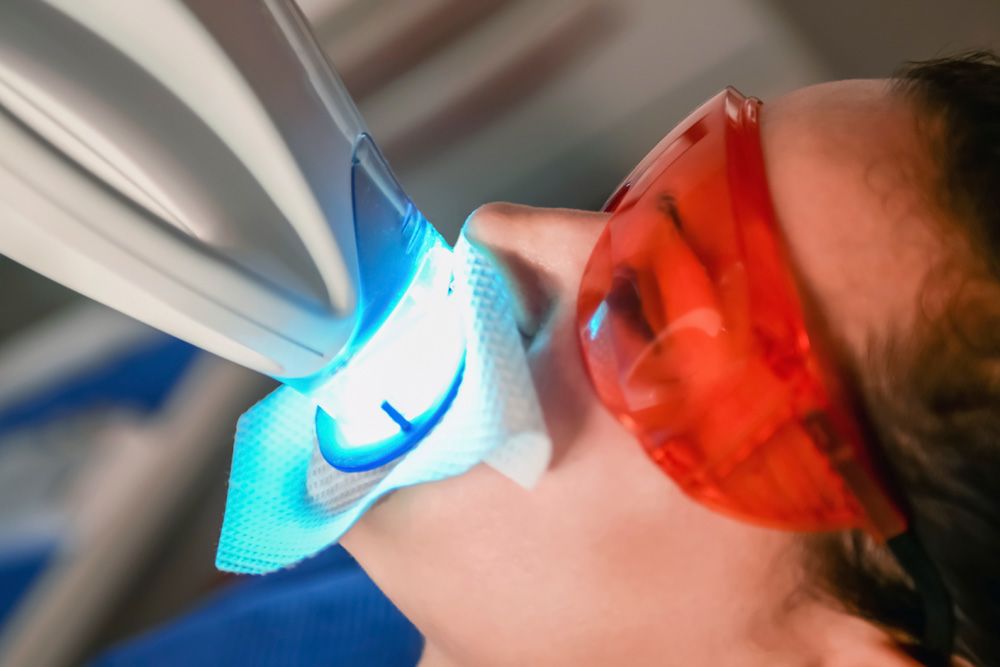 Is Teeth Whitening Right for You?
Teeth whitening is a minimally invasive, comfortable way to brighten your smile by several shades in just one appointment. Dr. Grossman thoroughly evaluates your candidacy before performing any type of dental treatment. He will begin by asking you to review your concerns and ultimate goals. Typically, you are a good candidate for teeth whitening if you:
Are in good oral health
Are over 16 years of age
Do not have visible fillings, crowns, or bridges, as these will not respond to whitening
Have healthy gums
Are not pregnant
Because we use a diode laser to conduct whitening, patients with sensitive teeth are still good candidates for this procedure.
Common Causes of Stained Teeth
There are two types of stains that can affect your smile: extrinsic and intrinsic. Extrinsic stains affect the outer covering of your teeth or the enamel. These stains are most commonly caused by:
Color-rich foods such as tomato sauce and berries
Drinks including coffee, wine, tea, and soda
Smoking
Alternatively, intrinsic stains affect the color of your dentin or the internal tooth structure. These stains are caused by other factors, including:
Overexposure to fluoride during your childhood
Exposure to tetracycline antibiotics at a young age
Trauma to your tooth
In some cases, natural aging can also contribute to dullness in your smile.
Dr. Grossman artfully designs custom whitening treatments that will produce attractive, yet natural-looking results.
Whitening with a Diode Laser
Dr. Grossman uses a diode laser to perform teeth whitening. Compared to traditional methods of teeth whitening, this method offers:
A shorter treatment time
Reduced tooth sensitivity
Less gum irritation
Optimal results
Because laser whitening is a highly effective but powerful way to whiten your smile, you need a skilled dentist like Dr. Grossman to oversee and complete your treatment.
If you want a less dramatic, more gradual transition into white teeth, Dr. Grossman can also create a custom take-home teeth whitening kit. This kit includes medical-grade whitening solution and custom trays. The whitening solution is injected from syringes into the whitening trays for easy, thorough application and gradual but stunning results.
Alternatives to Teeth Whitening
Although teeth whitening is a quick, effective way to achieve a bright smile, there are some patients who will be better suited to other cosmetic dental services. Both dental bonding and custom porcelain veneers can cover stains as well as improve the shape, size, and symmetry of your smile. If you have intrinsic rather than extrinsic stains, these cosmetic treatments may be right for you. As a comprehensive cosmetic dentist, Dr. Grossman can also perform these services in our office. He uses digital smile design to show you how your smile could look following each treatment, allowing you to make a decision based on your potential results.
Brighter Teeth Today
Dr. Grossman artfully designs custom whitening treatments that will produce attractive, yet natural-looking results. He has received extensive training in cosmetic dentistry and has earned status as a Fellow with the International Academy of Dental Facial Esthetics and the American Society for Dental Aesthetics. Backed by his training, technology, and personalized technique, he can design and administer life-changing dental care for virtually all patients. To find out whether teeth whitening is appropriate for your needs, contact our dental office online or call us at (516) 683-0888.