Restore Confidence and Comfort with Dentures
If you are missing most or all of your teeth, you likely struggle daily with a limited ability to chew and speak. You may also feel self-conscious about your appearance. Dentures provide a superb opportunity to restore the form and function of your smile. To meet your specific needs, Dr. Gerald B. Grossman offers both removable and implant-supported dentures at our practice in Westbury, NY. His custom restorations can help you speak, eat, and smile with greater confidence.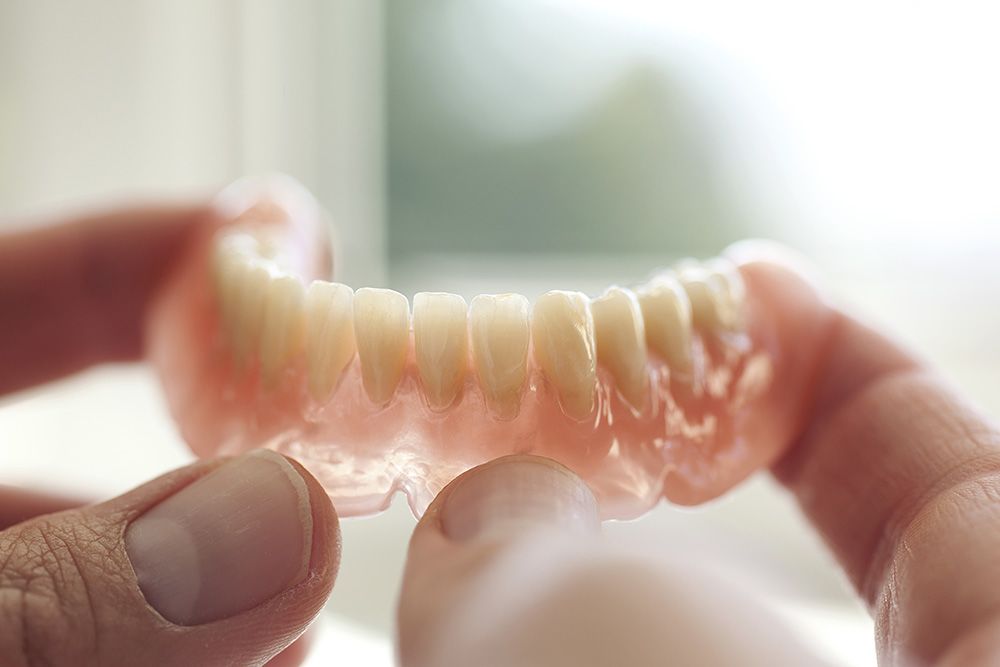 Explore Your Options
Dentures consist of artificial teeth set into a plastic, gum-colored base. During an initial consultation at our office, you can meet with Dr. Grossman to discuss your options. The three most common types of dentures are:
Partial Denture: Meant to replace several teeth in the upper or lower jaw, a partial denture has metal wires that attach to nearby teeth for support.

Full Denture: A full denture can replace an entire arch of teeth in the upper or lower jaw. In the upper jaw, full dentures cover your gums as well as the roof of your mouth, while lower dentures are shaped like a horseshoe to accommodate your tongue.

Implant-Supported

: For qualifying patients,

dental implants

provide unparalleled support for dentures. These small titanium posts are embedded into the jaw to replace lost tooth roots. This option provides ultimate support and is highly successful.
The type of denture we recommend for you will depend on the extent of your tooth loss, as well as your oral health and personal preferences. If you choose an implant-supported denture, Dr. Grossman can coordinate your treatment with a reputable oral surgeon who will perform your implant placement.
Creating Your Dentures
During your consultation, we will take impressions of your gums and remaining teeth. Dr. Grossman will then examine the way your jaws meet and design a denture suited to your specific needs. He will also take x-rays or scans of your jaw to fully assess your oral health. Once complete, we will send your impressions to our dental laboratory. It typically takes a couple of weeks for denture fabrication. When your denture is complete, Dr. Grossman will make any final adjustments so that you are satisfied with the look and feel of your new appliance.
Acclimating to Dentures
For most patients, it takes some time to get used to new dentures. They may feel awkward or uncomfortable at first, but patients eventually become accustomed. With traditional dentures, minor irritation or soreness is not uncommon. However, you can contact our office at any point if you believe your dentures are causing excessive irritation.
We look forward to helping you experience the comfort and confidence that a custom set of dentures can provide.
It should be noted that since implant-supported dentures are connected directly to the jaw, the learning curve is far less steep. This premium option featuring dental implants is more costly than traditional dentures, but we offer financing to help patients budget for an implant-supported appliance.
Schedule Your Appointment
For more information about dentures, or any of our other dental treatments, call (516) 683-0888 or send our office a message today to speak with a member of our team. We look forward to helping you experience the comfort and confidence that a custom set of dentures can provide.